Indian Recipes from the CSA Newsletter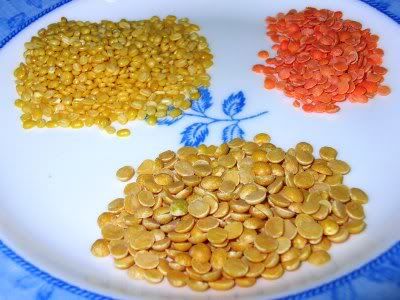 Our CSA, Eatwell Farms, has been hitting it out of the park lately. From a spicy "Sicialian pesto" to tonight's offerings, this newsletter is becoming a go-to for good food. I made the two dishes below with some grilled chicken thighs I had frozen with a tandoori spice and yogurt marinade, and some whole wheat chapati from the frozen food section at
New May Wah
. Miriam made chapati sandwiches with the chicken, dal and some tamarind chutney she loves.
I don't want to lose track of either of these:
This is easily one of the most delicious dals I've made, although I like the super-simple standards. I didn't have all the ingredients in the original recipe, but I would make it again exactly this way. Made easier by putting it together the night before.
1 c toovar dal (split yellow lentils)
1.5 T canola oil
2 t brown mustard seeds
1 lg onion, small dice
2 T finely grated coconut
1 T sambhar powder*
1 large tomato, fine dice
2 sprigs curry leaves (optional)
2-4 radishes, quartered and sliced 1/8" thick
1 t jaggery or raw sugar
1 t salt
2-3 cups water
Soak the lentils in water for one hour
Heat a medium-size heavy pot over medium-high heat. Add the oil. When hot, add the mustard seeds, and as soon as they start popping, add the onion. Sprinkle lightly with a bit of the jaggery and salt, and stir and fry till the onions are golden brown, about 10 minutes. Add the spices, stir, add the coconut, stir, and add the tomatoes and curry leaves. Stir to combine and cook a few minutes. Add the tovar dal, the jaggery, salt and 2 cups water.
Bring to a boil, turn down to a simmer, and cook until the lentils fall apart, about 40 minutes for red lentils or 1.5 hours for yellow lentils. Add water if necessary per your preferred consistency. Delicious!
*I didn't have sambhar powder, but after perusing several recipes, arrived at the following mixture:
1 t ground coriander
1/2 t each ground cumin, ground fenugreek
1/4 t each ground black pepper, turmeric, cloves, cinnamon, ancho chile powder, ground urad dal
Since these ingredients are supposed to be toasted, I added them to the browned onions and stirred a bit till fragrant before adding the tomato and coconut.
In looking up the difference between red lentils (which I had on hand) and yellow (which I did not) I found
this recipe
, which I plan to return to -- and to investigate her blog, too!
1 T canola oil
1/2 t ea cumin, fennel and brown mustard seeds
1/4 t cayenne and ground fenugreek
2 t minced garlic
1.5 cups diced onions
1/4 t raw sugar
1/2 t salt
3/4 lb. stir-fry mix, chard or kale, chopped
4-5 radishes, grated
Bring the oil to med-high heat in a wok. Add the seeds, stir and when the mustard seeds begin to pop, add the ground spices and garlic. Stir for 10 seconds and add the onion. Add the sugar and half the salt, stir, lower the heat to medium and fry for 10 minutes, until the onions are deep golden brown. Return heat to high and add the greens and radishes. When the greens brighten, add the remaining salt and cover to steam for one minute. Uncover and stir-fry until the greens are completely cookd.
Labels: Fall, greens, lentils, radish, South Asian