Lamb Kebabs & Gumbo (sort of)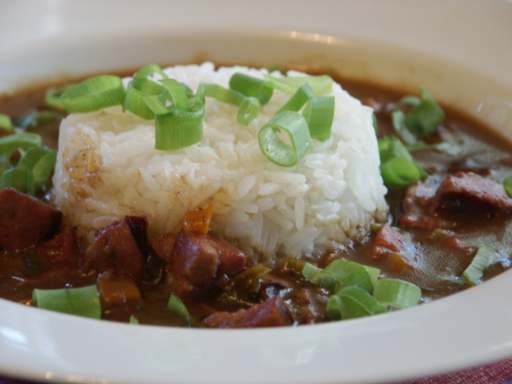 Monday was lamb kebabs made of ground lamb, scallions, matzo meal, an egg and a bunch of a Persian 7-spice mix I'm trying to use up. We have tons of crudite left over from MZ's birthday (of course we didn't run out of anything) so I made a Greek salad and a cucumber-yogurt sauce to go with the kebabs in w/w pita. It was a really good dinner, and very on the fly. MZ ate everything, so worth repeating.
Still trying to work through the crudite, tonight I made a sort of gumbo. I saw
this recipe
and thought of the turkey andouille sausage in my fridge, then realized that real gumbo has celery and bell pepper, which would address a few other lurkers, too. So I made up this combined Cook's Illustrated-Quick Cook never-the-twain shall-meet recipe that saved me from the insanity of a 1-hr roux or the disappointment of a pallid imitation. And served it over brown rice, completely separating this stew from its roots. Although MZ tasted not a bit (after devouring a spicy hot tamale pie last night), we liked it, I'll make it again.
Not Quick but Not Altogether Traditional Shrimp & Sausage Gumbo
1 lb. turkey andouille sausage
1/2 cup vegetable oil
1/2 cup flour
2 red onions, diced small
1 celery rib, diced small
1 medium red bell pepper, diced small
6 cloves garlic, minced
2.5 t Penzey's Cajun spice mix
2 bay leaves
1 bottle clam juice
1 quart low sodium chix broth
10 oz frozen okra
3/4 lb. cooked bay shrimp
1/2 cup thinly sliced scallions
Assuming this is a raw rather than smoked version of "Andouille", brown the sausage in 1 T vegetable oil in a dutch oven. Remove to a collander lined with paper towels to drain.
This part is straight out of Cook's Illustrated -- it's fussy, but amazing chemistry and really doesn't take that long to get the desired result: In the same pan, heat the oil to 200 degrees. Lightly spread the flour over the oil, and stir to combine. Turn heat to medium and stir constantly until the roux turns a copper penny shade. The flour will thin considerably (thus the need for something in the end to thicken the stew, according to
CI)
. Add the onions, celery and red pepper and stir to combine. The mixture will seem a bit gluey but wonderfully fragrant. Stir frequently as the vegetables soften, ~8 minutes. Add the seasoning and garlic and stir.
Slowly add the clam juice in a steady stream, stirring constantly. Now add the chicken stock. When the mixture is full combined, add the okra*. Bring to a boil, add the bay leaves and turn to a simmer for 30 minutes.
Add the reserved sausage and simmer another 30 minutes to allow the flavors to develop. Adjust seasonings and add the shrimp. Stir, simmer for 5 minutes and serve over rice, garnished with thinly sliced scallions.
Easily serves 6-8 people.
* This is where I should have added a 28 oz can of drained diced tomatoes, but MZ woke up and I lost track. I would do this next time, if only to increase the vegetable content of this one-dish dinner.