Kaddo Bowrani (Afghani Pumpkin)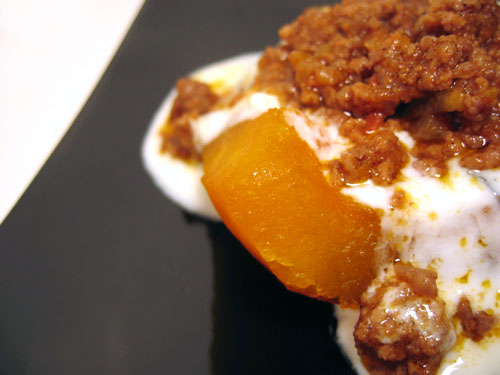 I crave this dish fairly regularly, having become addicted to the version at
The Helmand
in San Francisco. Well, Helmand is open again but I haven't made it back yet, and I picked up a lovely sugar pumpkin at
the pumpkin patch
last month.
I cobbled the recipe together from the
Chowhound Home Cooking
board. I used Allstonian's pumpkin recipe, and mainly followed the yogurt and meat sauces from a
SF Chronicle article
. The SF Helmand pumpkin is sloooowly cooked in tons of oil and sugar which makes it rich, creamy and truly amazing, but not quite right for a main dish.
It came together relatively quickly, in about 1.5 hours with some down time to steam a vegetable and make a salad -- not a typical weeknight meal for us but I'll certainly make this again when I can carve out the time, and hopefully while pumpkins are still available.
Pumpkin:
One 2 to 2.5 pound sugar pumpkin
2 T vegetable oil
1/4 cup sugar
1/2 t ground cinnamon
Yogurt sauce:
1 cup plain full-fate yogurt
1 clove garlic, crushed
½ t dried mint
¼ t or more salt
Meat Sauce (see recipe to follow)
Preheat oven to 350.

Cut the ends of the pumpkin to create a flat surface, and peel with a U-shaped peeler. Cut into wedges, quarters or sixths depending on the size of the pumpkin. Remove seeds and strings.
Heat 2 tablespoons oil in a Dutch oven. Brown the pumpkin pieces, turning every few minutes until golden brown on all sides. Do not scorch it.
Mix sugar and cinnamon, and sprinkle over pumpkin. Bake for 30 minutes, or until tender, basting with the juices half-way through. [From the recipe post: This seems like a lot of sugar, but go with it. The dish doesn't come out sweet in the end, and it just isn't as tasty if you cut down on the sugar.]
While the pumpkin is baking, make the yogurt sauce and the meat sauce.

Yogurt sauce: mix together ingredients until smooth and season to taste with salt.
Meat Sauce
2 T corn oil or other neutral oil
1 large onion, finely diced
1 1/2 pounds ground round
1 small can tomatoes, roughly pureed*
2 large garlic cloves, minced
1 1/4 t ground coriander
1 1/2 t salt
1 t freshly ground pepper
1/2 t ground turmeric
2 T tomato paste
1 1/3 cups water
* I drain the juices into the pan then whir the tomatoes briefly in the can with an immersion blender
Heat the oil in a heavy, medium-sized saucepan until it ripples. Add the onions and sauté over medium-high heat, stirring frequently, until they are golden brown, about 20 minutes. Add the beef, stirring to break it up into tiny pieces, until the meat is no longer pink, about 5 minutes.
Stir in the tomato, garlic, coriander, salt, pepper and turmeric. Cook for 5 minutes. Blend in the tomato paste. Add the water and bring to a boil over high heat. Cover, reduce heat and simmer for 15 minutes.
Use 2 to 2 1/2 cups of the sauce for the Kaddo Bourani. Cool, cover and refrigerate the remaining sauce for another dish. Yields 5 cups sauce.
To serve, place the pumpkin wedges on a serving plate, ladle the meat sauce over all, and drizzle with the yogurt sauce. Delicious!
NOTE: The photo above is sourced from and links to a really great food blog, Habeas Brulee. Check it out! I can't wait to make that pumpkin seed-cocoa nib brittle!
Labels: Fall, lamb, mains, South Asian