Wine Blogging Wednesday: '02 Navarro Pinot Gris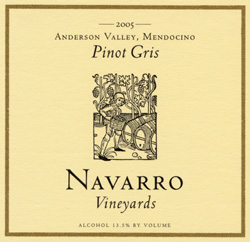 Wine Blogging Wednesday is a monthly international event that I learned of over on the excellent
Vinography
blog. This month it's being run by
Wine for Newbies
, if you're interested in what people had to say about white wines beyond the Big Three (Chardonnay, Riesling and Sauvignon Blanc), check out his wrap-up. If you're interested in a wine primer podcast, check out his site.

I took the event as a great opportunity to try something from one of my favorite wineries:
Navarro Vineyards
, in Mendocino. Navarro is exactly what I want a California winery to be: beautiful setting, lovely people, delicious wines, and a tasting room that is comfortable without being big and corporate. We manage to get up to Mendo every few years, and when we do, we always enjoy our visits to Navarro,
Husch
,
Handley Cellars
and
Lazy Creek
. Inevitably, we come home with a case of wine, which we dole out across the years to remind us of our wonderful get-away.

While not the subject of this tasting, it's worth noting that Navarro makes fabulous non-alcoholic grape juice. Both the
Pinot Noir
and the
Gewürztraminer
show true varietal flavors, and make a lovely spritzer with sparkling water and a twist of lemon or lime. Navarro spritzers have gotten me through the wine-craving days of my pregnancies. Don't look for these in stores, Navarro sells strictly from the winery or
online store
, but you can give them a try at Zuni or Chez Panisse, or at virtually every Mendocino-area restaurant.

Now for the subject of this post: the 2002 Navarro Pinot Gris, a gift to my dad that he graciously shared with us. He's been storing it for a couple of years, to great effect. I'm not a big fan of pinot gris (or pinot grigio when from Italy) in general, it can be much too light for my taste, leaving me craving something with a little more substance. While I enjoy light wines in context (Muscadet with shellfish, for example), perhaps I just haven't found the proper context for most pinot gris.

Or perhaps this is an issue of the winemaker not knowing how to handle the grape. According to the folks over at
Terroir French Wine Guide
, Pinot Gris is an Alsation grape-variety, also called Tokay d'Alsace. They tell me it's a very exacting variety that might be light and fruity or robust. Somehow Navarro managed to make the '02 both fruity and robust, almost like a lightly-aged Riesling Spätlese trocken in weight.

According to Navarro, each vineyard lot of pinot gris is fermented and aged separately in French oak casks and in the spring Navarro's staff ranks them in quality in order to blend the cuvée. They have hillside vineyards as well as grapes on the valley floor, and the combination results in a suprisingly rich and balanced pinot gris, full of fruit (they tell me melon, fig, mint, muskmelon and tangerine) on the palate but with a completely dry, minerally finish. That transition from rich to crisp left me wanting the next sip almost immediately, I found myself tempted to gulp this wine -- but that may have been more the result of a day spent with a sick and clingy baby.

All in all, a wonderful way to close out the day.